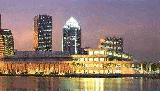 Tampa Convention Center
333 S. Franklin Street
Tampa, Florida 33602
USA


+1 (813) 274-8511


+1 (813) 274-7430


Web Site

Google map
Exhibition Name
Cycle
Next Date
PROGRESSIVE TAMPA BOAT SHOW
Boat Show. Tampa Boat Show, Tampa's largest and longest-running boat show is the best place to see and buy boats, gear and accessories

once a year

08.09 - 10.09 2017

AVS INTERNATIONAL SYMPOSIUM
AVS Society International Congress. Chemistry, physics, biology, mathematics, all engineering disciplines...

once a year

29.10 - 03.11 2017

IMECE
International Mechanical Engineering Congress & Exposition

once a year

03.11 - 09.11 2017

TAMPA BAY INTERNATIONAL AUTO SHOW
Tampa Bay International Auto Show. TAMPA BAY INTERNATIONAL AUTO SHOW will present a wide selection of manufacturer's new-model vehicles, trucks, SUVS & collection of high-end exotic vehicles from Maserati, Bentley and Rolls-Royce

once a year

16.11 - 19.11 2017

FUN ANNUAL CONVENTION
Currency and Coin Expo in Florida. FUN ANNUAL CONVENTION FORT LAUDERDALE features paper currency, coins, vintage coins, medal, heritage auctions and all types of numismatics

once a year

04.01 - 07.01 2018

THE FRANCHISE & BUSINESS OPPORTUNITIES EXPO - TAMPA
North America's Largest Franchise and Business Opportunities Events

once a year

Feb. 2018 (?)

VISION - INTERNATIONAL WINDOW COVERINGS EXPO (IWCE)
Hard and Soft Window Coverings, Decorative Drapery Hardware, etc. Vision IWCE is a great industry's gathering to share ideas for not only the Window Coverings Industry but Kitchen & Bath design as well

once a year

27.03 - 28.03 2018

Please note ! All dates are subject to changes. Contact organizers for more information before making arrangements.