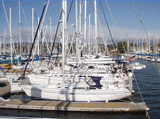 Marina Bay Yacht Harbor
1340 Marina Way S
Richmond, CA 94804
USA


+1 (510) 236-1013


+1 (510) 236-1957


Web Site

Google map
Exhibition Name
Cycle
Next Date
STRICTLY SAIL PACIFIC
Boat Show. Strictly Sail Pacific offers a large selection of sailing accessories, hardware, gear and services, ranging from the latest developments in wind generators and solar panels to new innovations in ropes, winches, & electronics, among others

once a year

12.04 - 15.04 2018

Please note ! All dates are subject to changes. Contact organizers for more information before making arrangements.