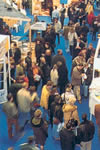 Parc des expositions de Caen
Rue Joseph Philippon
14065 Caen Cedex 4
France


+33 (2) 31 29 99 99


+33 (0)2 31 29 99 60


Web Site

E-mail

Google map
Exhibition Name
Cycle
Next Date
FOIRE INTERNATIONALE DE CAEN
International Fair of Caen

once a year

15.09 - 24.09 2017

SALONS CE CAEN
Exhibition for Works Councils and Local Authorities

twice a year

Oct. 2017 (?)

SALON DES VINS ET DE LA GASTRONOMIE - CAEN
Wine and Gastronomy Fair

once a year

March 2018 (?)

Please note ! All dates are subject to changes. Contact organizers for more information before making arrangements.