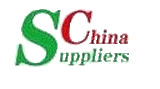 Room 106, Building 4
Science & Tech. Mansion 41
Jilin Road
Qingdao 266012
China


+86 532 8380 5316


+86 532 8380 5156


Web Site

E-mail
Exhibition Name
Cycle
Next Date
City / Country
GLOBAL FOUNDRY SOURCING CONFERENCE
Foundry Sourcing Conference. The Global Foundry Sourcing Conference's purpose is to establish a communication and trading platform for global casting purchasers and Global casting suppliers
twice a year
23.09 - 23.09 2019
Qingdao
> China
Please note ! All dates are subject to changes. Contact organizers for more information before making arrangements.