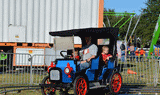 Western Carolina State Fair
1566 Columbia Hwy N
Aiken, SC 29801
USA


+1 (803) 648-8955


Web Site

Google map
Exhibition Name
Cycle
Next Date
AIKEN GUNS & KNIFE SHOW
Self-protection weapon Expo. AIKEN GUNS & KNIFE SHOW presents automatic shotguns, shooting rifle, hunting knives, fishing gears, pistols, cartridges, display cases, gun safes, ear plugs, ammo, flashlight, safety gadgets, sharpening tools and laser optics

twice a year

14.04 - 15.04 2018

Please note ! All dates are subject to changes. Contact organizers for more information before making arrangements.