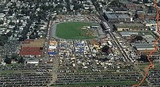 Bloomsburg Fairgrounds
620 W 3rd St
Bloomsburg, PA 17815
USA


+1 (570) 784-4949


Web Site

Google map
Exhibition Name
Cycle
Next Date
BLOOMSBURG GUNS AND KNIFE SHOW
Arms and Ammunition fair. BLOOMSBURG GUNS AND KNIFE SHOW presents personal defense weapons, shotguns, shooting rifle, antique knives, dagger, samurai swords, ammo, collectible firearms, fishing and hunting accessories, holsters, outdoor equipment, carbin

3 times a year

05.05 - 06.05 2018

Please note ! All dates are subject to changes. Contact organizers for more information before making arrangements.