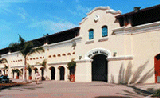 Del Mar Fairgrounds
2260 Jimmy Durante Boulevard
Del Mar, California 92014-2216
USA


+1 (858) 755-1161


+1 (858) 755-7820


Web Site

Google map
Exhibition Name
Cycle
Next Date
THE NATIONAL FRANCHISE & BUSINESS OPPORTUNITIES EXPO - SAN DIEGO
North America's Franchise & Business Opportunities Event. THE FRANCHISE & BUSINESS OPPORTUNITIES EXPO showcases the fastest growing franchises & business opportunities with thousands of potential franchisees & business partners eager ready to invest

unknown

27.01 - 28.01 2018

GOODGUYS DEL MAR NATIONALS
Finest Car Fair in Del Mar. GOODGUYS DEL MAR NATIONALS features attractive hot rods, muscle automobiles, classic vehicles, vintage models, trucks, Tools & kits, Street machines, automotive, used cars, customized personal vehicles

once a year

06.04 - 08.04 2018

DEL MAR ELECTRONICS AND DESIGN SHOW (DMEDS)
Trade Exhibition for Assembly & Manufacturing, Quality & Test, Engineering and Design in Del Mar

once a year

02.05 - 03.05 2018

DEL MAR GUNS & KNIFE SHOW
Arms & Ammunition fair. DEL MAR GUNS & KNIFE SHOW presents shotguns, hunting rifles, rifle spoke, gun parts, combat knives & swords, cartridges, muzzle load, gun magazines, sharpening tool, holsters, gun safes & cases, laser sight and Militaria of all Wa

5 times a year

19.05 - 20.05 2018

HARVEST FESTIVAL - ORIGINAL ART & CRAFT - DEL MAR
Original Art & Craft Show. Each Harvest Festival features hundreds of artisans exhibiting American handmade items including beautiful jewelry, clothing, specialty foods, photography, original art, hand-turned wood, music, ceramics, etc

once a year

12.10 - 14.10 2018

Please note ! All dates are subject to changes. Contact organizers for more information before making arrangements.