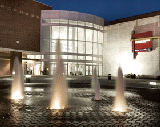 TD Convention Center
One Exposition Drive
Greenville, SC 29607
USA


+1 (864) 233-2562


+1 (864) 255-8600


Web Site

Google map
Exhibition Name
Cycle
Next Date
GREENVILLE GUN & KNIFE SHOW
Arms & Ammunition Fair. GREENVILLE WINTER GUN & KNIFE SHOW presents all types of firearms, combat knife & sword, airguns, Camouflage merchandise, antique pistol, cartridges, hunting accessories, self protection weapons, alarms, outdoor equipment

5 times a year

21.04 - 22.04 2018

SOUTH CAROLINA INTERNATIONAL AUTO SHOW
South Carolina International Auto Sho. SOUTH CAROLINA INTERNATIONAL AUTO SHOW will present a wide selection of manufacturer's new-model vehicles, trucks, SUVS & collection of high-end exotic vehicles from Maserati, Bentley and Rolls-Royce

once a year

Jan. 2019 (?)

GREENVILLE REMODELING EXPO
Home Remodeling Expo

once a year

Jan. 2019 (?)

SOUTH-TEC
Advanced Productivity Exhibition. SOUTH-TEC draws manufacturing suppliers, distributors and equipment builders from across North America and around the world.With some 200 exhibitors you'll find all the products and services you need

every 2 years

22.10 - 24.10 2019

Please note ! All dates are subject to changes. Contact organizers for more information before making arrangements.