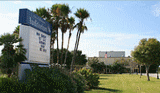 Melbourne Auditorium
625 E Hibiscus Blvd
Melbourne, FL 32901
USA


+1 (321) 674-5700


Web Site

Google map
Exhibition Name
Cycle
Next Date
FLORIDA GUN & KNIFE SHOW MELBOURNE
Guns & Weapons fair. FLORIDA GUN & KNIFE SHOW IN MELBOURNE features shooting rifles, all types of knives, shotguns, self -defense weapons, fishing & hunting gears, holsters, antique pistols, collectible firearms and personal weapon permit course

unknown

30.12 - 31.12 2017

Please note ! All dates are subject to changes. Contact organizers for more information before making arrangements.