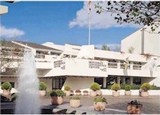 Monterey Conference Center
One Portola Plaza
Monterey, CA 93940
USA


+1 (831) 646-3770


+1 (831) 646-3777


Web Site

Google map
Exhibition Name
Cycle
Next Date
SPIE PHOTOMASK TECHNOLOGY + EXTREME ULTRAVIOLET LITHOGRAPHY
Photo Mask Technology Exhibition. SPIE Photomask Technology + Extreme Ultraviolet Lithography is a highly regarded exhibition & conference for buyers and key suppliers of components, software, and manufacturing equipment for the mask industry

once a year

17.09 - 20.09 2018

Please note ! All dates are subject to changes. Contact organizers for more information before making arrangements.