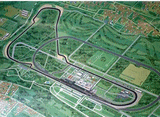 Autodromo Nazionale Monza
via Vedano 5
20052 Monza (MI)
Italy


+39 039 24821


+39 039 320324


Web Site

Google map
Exhibition Name
Cycle
Next Date
IL SALONE DELLO STUDENTE - MONZA
Student's Exhibition

once a year

21.03 - 22.03 2018

COMPANY CAR DRIVE
Event dedicated to fleet managers

once a year

May 2018 (?)

Please note ! All dates are subject to changes. Contact organizers for more information before making arrangements.