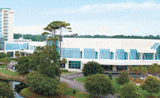 Myrtle Beach Convention Center
2101 North Oak Street
Myrtle Beach, SC 29577
USA


+1 (843) 918-1225


Web Site

Google map
Exhibition Name
Cycle
Next Date
MYRTLE BEACH GUN & KNIFE SHOW
Arms and Weapons fair. MYRTLE BEACH GUN & KNIFE SHOW features rifles, shotguns, collectibles firearms, all size of knives, swords, personal defense weapons, outdoor equipment, fishing & hunting accessories, holster, gun cases & safe

twice a year

27.10 - 28.10 2018

GRAND STRAND GIFT & RESORT MERCHANDISE SHOW
Gift Fair. Known as the "Big Kahuna", the annual Grand Strand Gift & Resort Merchandise Show is the largest, longest-running coastal resort gift show in the nation, featuring 800+ booths, retailers can now explore an even greater selection of products

once a year

02.12 - 05.12 2018

HMRSSS - HOTEL, MOTEL & RESTAURANT SUPPLY SHOW OF THE SOUTHEAST
Hotel, Motel & Restaurant Supply Show of the Southeast. Providing hospitality industry owners and operators full exposure to the Lastest products and services available to the industry

once a year

Jan. 2019 (?)

Please note ! All dates are subject to changes. Contact organizers for more information before making arrangements.