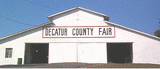 Decatur County Fairgrounds
1925 US-641
Parsons, TN 38363
USA


+1 (731) 847-6225


Web Site

Google map
Exhibition Name
Cycle
Next Date
PARSONS GUNS & KNIFE SHOW
Self Defense Weapon Fair. PARSONS GUNS & KNIFE SHOW showcases shotguns, handguns, hunting rifle, combat knife and swords, collector & antic fireweapons, Indian artifacts, muzzle load, hi-tech optics, safety equipment, holsters, war relics and gun parts

twice a year

Oct. 2018 (?)

Please note ! All dates are subject to changes. Contact organizers for more information before making arrangements.