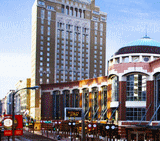 America's Center Convention Complex
701 Convention Plaza
Suite 300
St. Louis, Missouri 63101
USA


+1 (314) 421-1023


+1 (314) 621-7729


Web Site

E-mail

Google map
Exhibition Name
Cycle
Next Date
PROGRESSIVE INSURANCE ST. LOUIS BOAT & SPORTSHOW
Boat Show

once a year

08.02 - 11.02 2018

ROCK 'N' ROLL ST LOUIS
Health & Fitness Expo in St Louis. ROCK 'N' ROLL ST LOUIS features the latest in running technologies, fitness apparel, health & nutrition information and interactive displays

once a year

Oct. 2018 (?)

Please note ! All dates are subject to changes. Contact organizers for more information before making arrangements.