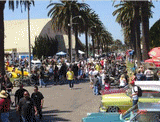 Ventura County Fairgrounds
San Buenaventura (Ventura), CA
USA


+1 (805) 648-3376


+1 (805) 648-1012


Web Site

E-mail

Google map
Exhibition Name
Cycle
Next Date
VENTURA GUNS & KNIFE SHOW
Arms & Ammunition fair. VENTURA GUNS & KNIFE SHOW presents shotguns, hunting rifles, rifle spoke, gun parts, combat knives & swords, cartridges, muzzle load, gun magazines, sharpening tool, holsters, gun safes & cases, laser sight and Militaria of all Wa

4 times a year

28.04 - 29.04 2018

HARVEST FESTIVAL - ORIGINAL ART & CRAFT - VENTURA
Original Art & Craft Show. Each Harvest Festival features hundreds of artisans exhibiting American handmade items including beautiful jewelry, clothing, specialty foods, photography, original art, hand-turned wood, music, ceramics

once a year

05.10 - 07.10 2018

Please note ! All dates are subject to changes. Contact organizers for more information before making arrangements.